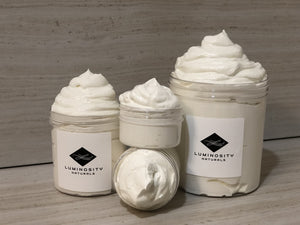 Our Peaches and Creme scent is a soft, yet, sweet delight. It's high peach node has been paired with light hints of vanilla creme. This body butter is formulated to nourish and provide long lasting skin hydration. This is one of the best high quality ingredient handcrafted body butters on the market - always remember a little goes a long way! 
Suggested Use: Use daily, morning and night. It's great for skin maintenance. Simply apply to your entire body.
Show LOVE to the skin you're in with these enriched ingredients: 
Organic Shea Butter, Mango Butter, Cocoa Butter, Sal Butter, Coconut Oil, Vitamin E(Tocopherol Acetate), Arrowroot, Sweet Almond Oil, and Fragrance
Please make sure that you are not allergic to any of the ingredients listed in this product before purchase. 

It is also recommended to do an allergy patch test by applying to an inconspicuous area and checking 24 hours after applying for any allergic reactions or irritations.